In the summer months in particular, there were repeated reports of large-scale forest fires worldwide. From California to Siberia, as well as Australia. Unfortunately, also here in Europe. The risk of forest fires is increasing every year – especially in the Mediterranean region. To the suffering of people, climate and wild animals. Our Head of Sustainability questions the current situation with Georgia Psaroudaki. She is the CSR Director at We4all – a non-profit environmental organization from Greece.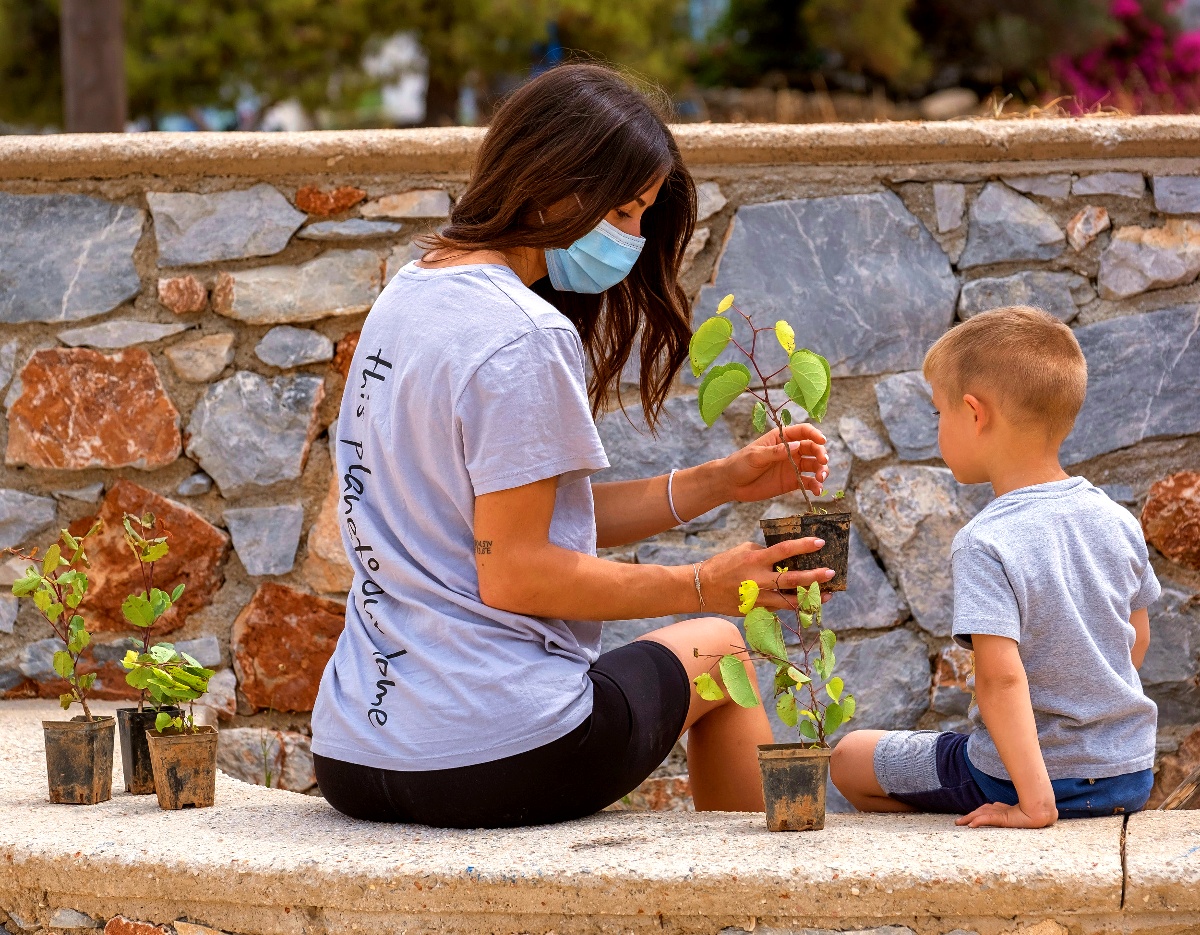 We had to record a sorrowful year of forest fires in Europe. Almost 800,000 hectares have already been burned down. This corresponds to an area that is ten times larger than the entire urban area of Hamburg. Overall, there were three times as many forest fires in Europe as on average. Even if I already suspect the answer, but would you like to tell us why?
Wildfires are indeed a very urgent and relevant topic that needs to be addressed at a global level. In Greece specifically, we have seen forest fires increasing drastically in the last 5 years. Only in the year of 2021, approximately 1.2 million acres of land were burnt due to wildfires. As a result, hundreds of thousands of trees were lost, thousands of people lost their properties, and a significant number of animals lost their lives. The situation has clearly gone out of hand and as years go by it is only getting worse and worse.
When it comes to wildfires in particular, we have seen extremely strong and regular heat waves occurring every summer in the Mediterranean area that can last for weeks and can reach temperatures as high as 45 degrees celsius. These heatwaves are combined with extremely strong winds that create the ideal conditions for a fire to occur. All these phenomena are very clear results of Climate Change. The climate has been getting warmer by the year with extreme weather conditions taking place not only in summer but all year long such as very heavy snowfalls, floods or even tornados that have never been recorded in Greece before. Another cause for forest fires is unfortunately human carelessness which is responsible for approximately 70 % of all fires. A very common phenomenon that is observed in Greece is people taking advantage of the heat waves created by Climate Change to light up fires during the days of high risk and in that way a fire can spread very rapidly. Most fires in Greece are started by incendiaries, who start fires in order to exploit the land for construction or political interests.
Climate Change is of course a global phenomenon. To counter this situation, everyone on this planet must take responsibility. True to the well-known slogan: think globally, act locally. How exactly is We4all committed to climate protection and nature conservation?
Unfortunately, the term "Climate Change" is used so often nowadays that people don't take it that seriously anymore. Many people view Climate Change as this abstract distance concept that is very unlikely to affect their everyday lives, especially here in the Western World. However, that is very far from reality. Climate Change is as real as ever and its consequences can be seen very evidently, affecting not only the environment but also our daily lives.
At We4all, we do everything that's in our power to tackle this issue. So far, we have planted more than 225.000 trees here in Greece and on a global scale, in countries that are the most in need. These trees absorb on average 22 kg of CO2 per year, which is a big counteract when it comes to Climate Change. We also support local communities that have been affected by the wildfires by donating olive trees, fruit trees and bee plants. Many people's livelihoods here in Greece depend on the production of honey, olive oil and fruits. After the fires they have completely lost hope. We4all helps them get back on their feet by giving them a second chance.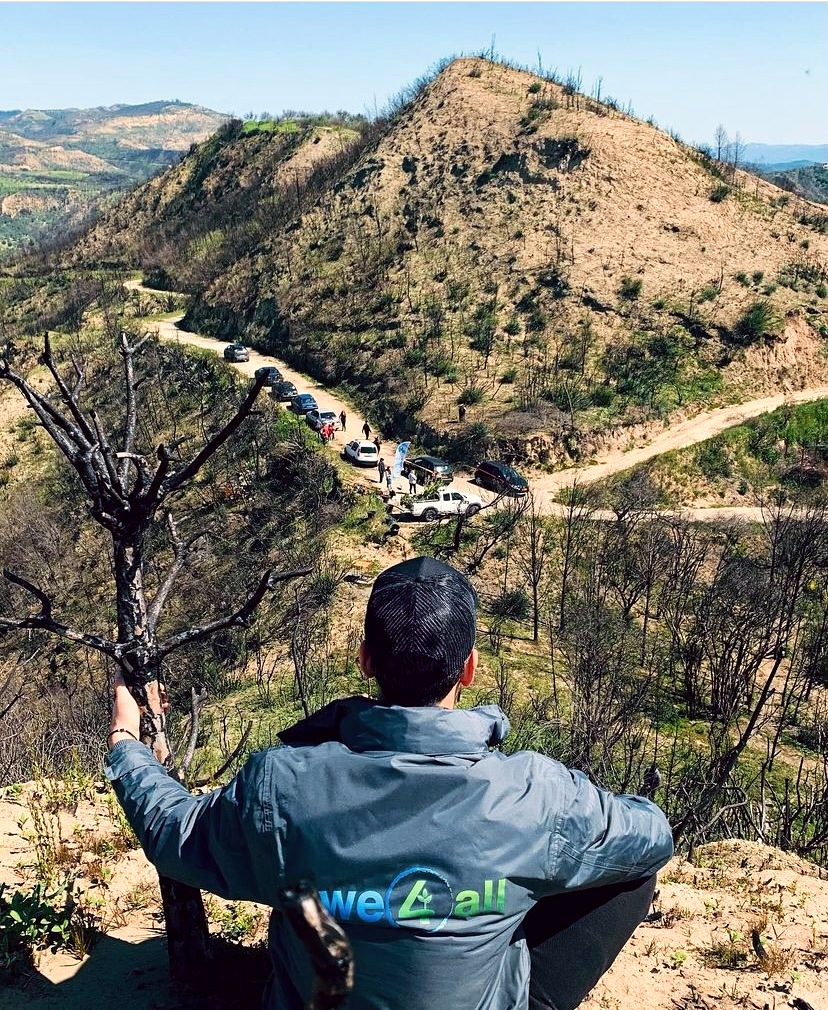 A big core value of our organization is prevention vs treatment. This is why most of our projects are dedicated to forest protection initiatives. This includes installing water tanks in forests, cleaning up forests from dead brunches and other flammable materials, opening forest roads to ensure the easy access of firefighters and building firebreaks by planting slow-burning trees. At the same time, we educate children worldwide about Climate Change, and we empower them by giving them accessible everyday solutions on how to fight the climate crisis so that we ensure the younger generation is well-informed and prepared. Finally, we have established a first-response team that trains volunteer firefighters that will be able to respond to wildfires and other natural disasters.
Not only people suffer from deforestation – also the wild animals that lose their habitat. Do you cooperate with other NGOs in this context?
Animals have been suffering tremendously from wildfires, and it's always a very heartbreaking thing to witness as they are paying for our own carelessness. We4all's vision is to see humanity co-exist as one big family, in harmony with nature and other living beings.
One organization that we cooperate with and does an incredible job within the animal protection and conservation field is ANIMA.
Finally, can you tell our readers how they can support nature conservation here in Europe?
One very efficient way to support nature and the environment is by planting trees in order to make up for the disaster human activity has caused. At We4all we make it easy for people to do that. People can directly make a donation through our website, where all funds go to the planting and caring of trees. It is also significant to take part in volunteering actions that are dedicated in the protection and conservation of nature and the environment. Finally, adopting a more sustainable and eco-friendly lifestyle is an individual's testimonial when it comes to caring for the planet. Through our everyday choices and actions, we can constantly show our love for our planet. Going vegetarian or vegan or adopting a zero-waste lifestyle are a few very important changes that one can make in order to tackle the issues our planet is facing.
dieUmweltDruckerei is enthusiastic about so much commitment to nature and donates EUR 2,000 to We4all for reforestation and EUR 2,000 to ANIMA for wildlife protection. Dr. Kevin Riemer-Schadendorf from dieUmweltDruckerei will travel to Greece by train at the end of October to work with the NGOs on site.